"There are no mistakes, no coincidences. All events are blessings given to us to learn from," says Dr. Elisabeth Kubler-Ross.
It was by no coincidence that on March 20, 2008, Brian, Ma'am Genine, and I finally decided to spend Holy Week at
Dapit Alim, Lanao del Norte -
a place I was not then familiar with. My curiosity was intensified when we were welcomed at the roadside by a very distinct mark - a unique wooden sculpture of an opened hand.
Consequently, we hurdled two hundred forty-three steps to reach the place and mind you, the stride was breath-exhausting aside from the fact that we brought bulky and heavy luggage.
A beautiful arch on the main entrance entertained us while waiting for the other
Catholic Young Professional (CYP)
members: Te Juliet, Te Mae, Lowella, and Junjun to lead us because we were newcomers to the place.
Before we were fetched, we decided to attend the ongoing Holy Thursday Mass celebrated by Fr. Dong Galenzoga.
It was then that I observed the captivating shrine of the giant Infant Jesus seated at the heart of the Father. The statue is meaningful with its two hands extended that portray a message: "God embraces and welcomes every creation for a purpose.
It was not until the second day, Good Friday, when I fully observed the totality of the place because we were introduced to the different areas gradually. That exposure led us to see the statue of the white Virgin Mary, the unique confession area, the fountain designed with two big hands, the sculpture of "tentacles" purposely created for bonfire and three other exceptional concentric circles that added to the ethereality of the place.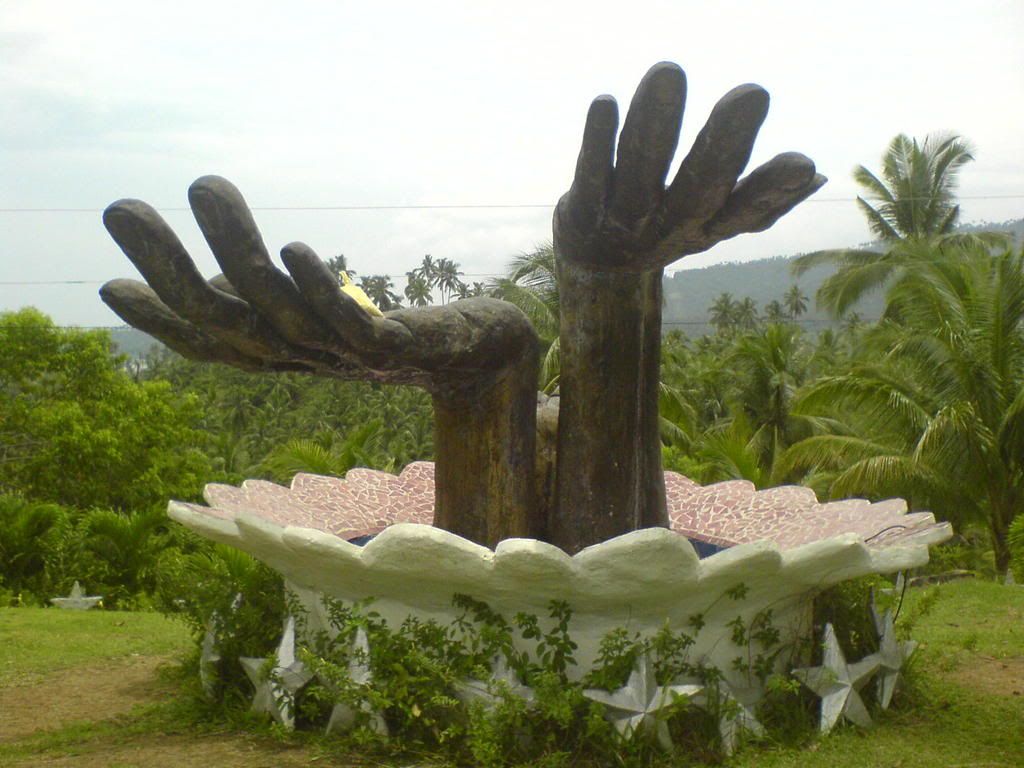 Accordingly, these are works of the famous Kublai, a contemporary artist in the country whom I highly admire for perfectly designing the symbolic statues of God. On that same day, we attended a very elaborative lecture given by Brother Carl Gaspar about important topics like God's creation, social sin, ecology, etc. What struck me was the teaching about avoidance of social sin, i.e. we need to be responsive to what is happening in our society and be involved in our quest for truth. Moreover, emphasis was also given to global warming as the effect of man's irresponsibility to the environment. I really felt the guilt because I neglected some of my actions like improper disposal of some trashes. This is indeed a great challenge for all of us to be environmentally conscious and have the courage to lead others to do the right thing.
On the other side, I was also amazed with the dramatization rendered by the youth of the nearby places to give life and meaning to Christ's sufferings. Indeed, it touched the wounded child in me especially when Jesus Christ received all the painful strikes, curses, and belittlement from the oppressors. The actors were really good in portraying their respective roles that some pilgrims cried eventually. The Stations of the Cross started at 1:00 PM and ended at 6:00 PM in which many of us no longer felt the boredom knowing that we had been into many activities. It was also my first experience not to eat even bread during lunch and I was just worried of the possible dehydration because of the exhaustive procession in a mountain with a gleaming heart of the sun. Despite this, everything was worthwhile. Suffering in the context of sacrifice during Holy Week is realistic and made more meaningful.
Sabado de Gloria approached and at 6:00 o'clock in the morning, we experienced Shibashi, a healing exercise with the help of nature. Everyone felt relief after the ritual.
We were also tasked to put flowers on the tables before lunch and we enjoyed it. Brother Carl once again conducted a lecture from morning to afternoon and summarized it. Every day ended with great lessons inculcated in our hearts and minds. Aside from this, we met new acquaintances whom I consider special in my heart. I really miss them.
On the dawn of Easter Sunday at exactly 4:00 AM, we joined the "sugat" or the meeting of Jesus Christ and Mother Mary. Some brought lighted torches to enlighten the gloomy path of the dawn. It was then followed with a Eucharistic celebration and happiness surrounded the place because Christ has risen. After the holy mass, the pilgrims from MSU joined together for video and photo documentation. Then we had a meeting at the chapel where everyone shared their experiences. Thanksgiving, suggestions and recommendations were raised and we ended it with the song "Let There Be Peace on Earth." Then, a hearty and meaty brunch was served for everyone's delight and refreshment. At exactly 2:00 PM, we bade goodbye to Father Dong and other people. I felt sad because I would miss the bonding that we had. On the other hand, I was also happy because I am now equipped with valuable lessons that will help me become a better person.
The journey to Dapit Alim is a truly remarkable experience. It has been proven once again that one will have no regrets to visit the place because of its mesmerizing panorama and the realization one can have. Dapit Alim, which literally means "healing place" is indeed a place where all our burden, stress, and pain will be healed; no wonder why at the very foot of the hill, a big hand is well-designed to suggest healing. It is by God's grace that we were renewed and were able to affirm that with God's resurrection, everything will be well.

Thank God.
uriseapnewsletter.blogspot.com
panaw-lantaw.blogspot.com
Thank you so much. We barely had copies of photos when we visited the place way back 2008, hence photo credits...